Make any Professional Instrument Bluetooth®-Compatible to iOS®
Are you ready to bridge the gap between GNSS, mobile mapping, and third-party professional instruments and sensors? We've got good news. As iOS devices gain popularity among professional mobile teams, demand is rising for commercial smartphones and tablets to interface with professional instruments and sensors. The Eos Bridge™ is the world's first device capable of making this connection. The Eos Bridge™ is a Bluetooth® connector for mobile mapping teams. Simply put, this device connects the already powerful combination of survey-grade accuracy from Arrow Series® GNSS receivers and mobile mapping from GIS apps — with the extreme specificity of measurements from third-party instruments and sensors (e.g., laser rangefinders, utility locators). Keep reading to learn how the Eos Bridge™ can offer even more value into your existing high-quality hardware.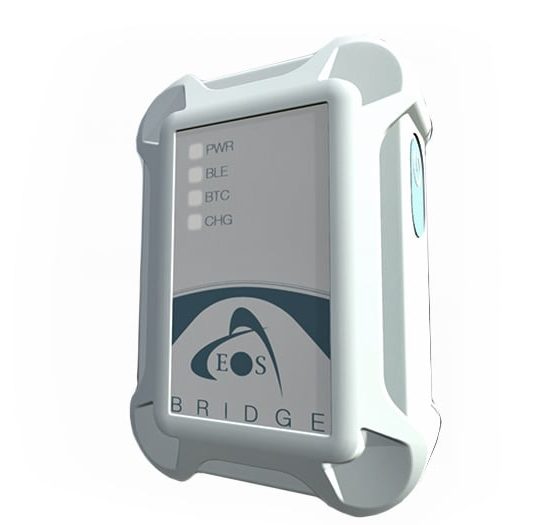 Blissfully Bluetooth® Enabled
Creates iOS Bluetooth® Connection
Make communication communal. The Eos Bridge™ creates a Bluetooth® connection between any third-party sensor (e.g., an echo sounder) and an iPhone® or iPad® connected to an Arrow Series® GNSS receiver.
Not Just iOS
The Eos Bridge™ can also work via serial port. This means your legacy sensors and instruments that have absolutely no Bluetooth® capabilities can also be made Bluetooth® compatible (via serial port) to any iOS, Android, Windows or other device.
Expands Access to Eos Solutions
With the Eos Bridge™, current Eos customers who would like to use our Eos Laser Mapping™ and Eos Locate™ solutions with their legacy laser rangefinders and utility locators may now do so.
What Do You Get with the Eos Bridge™?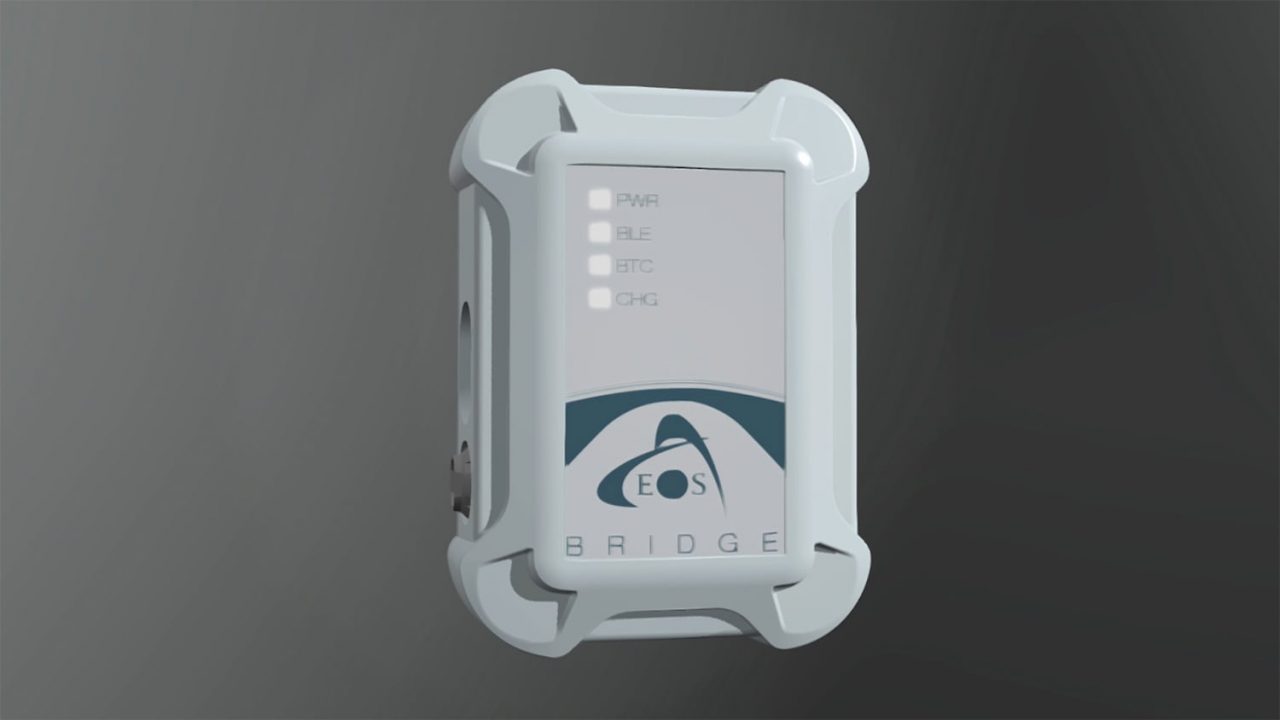 What's Included?
See what comes with this Bluetooth® connector in the box!
The following items are included with every purchase of an Eos Bridge™:
Eos Bridge™

Integrated Li-Ion Battery
USB Charger
Belt Clip
Strap Loop
Serial DB-9 Cable (Optional)
Convenient, Portable and Rugged
With its long-lasting battery, the Eos Bridge™ delivers days of continuous use on a single charge. And thanks to its lightweight design, the Eos Bridge™ can easily be stored in a pocket, clipped to a belt, or attached directly to any instrument. The Eos Bridge™ is also rugged and waterproof, so you can confidently take it to the harshest environments.
Made to Be Used On-the-Go
Long Lasting Battery
The Eos Bridge ™ is battery powered, with a single charge lasting 24-48 hours. It is rechargeable using a standard USB cable.
Palm Sized
Weighing in at 165 grams (.36 lb), the Eos Bridge™ is extremely portable and inconspicuous.
Multiple Carry Options
The Eos Bridge™ can be clipped to a belt or vest, put in a pocket, or attached with VELCRO® onto an instrument itself.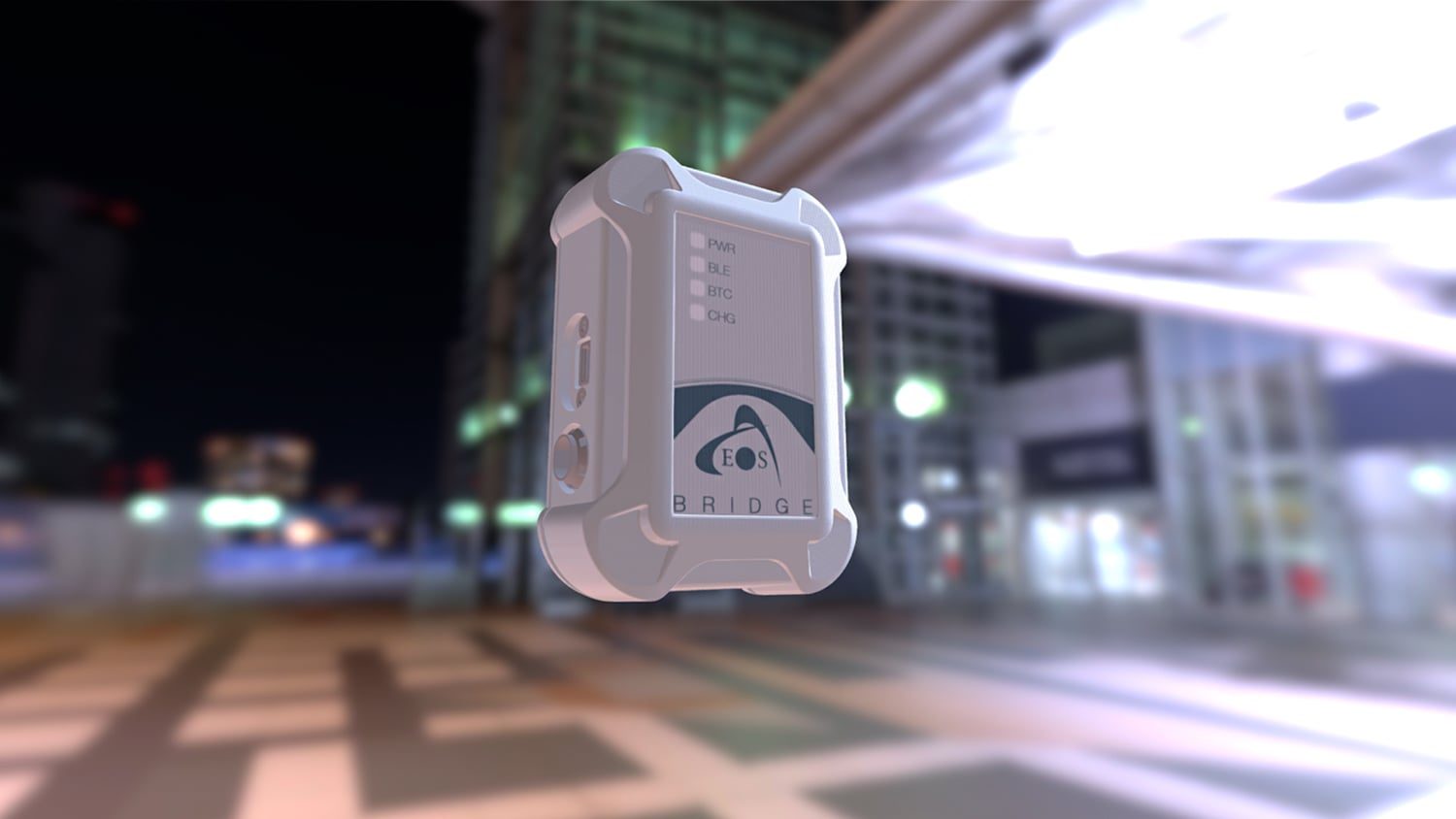 What Can You Do with the Eos Bridge™?
Have you ever wished your existing laser rangefinder, utility locator — or any other sensor — would automatically send data to your mobile mapping solution? The days of wishing are over. With the Eos Bridge™, simply pair any legacy instrument to your iOS device (while connected to an Arrow GNSS receiver), and the Eos Bridge™ takes care of the connections. Measurements from your professional instruments will flow directly to iOS, where you can capture them in a GIS app with high-accuracy locations from your Arrow GNSS receiver.
This means your legacy laser rangefinders can now be used with our Eos Laser Mapping™ solution for Esri's ArcGIS Field Maps. And your legacy utility locators can now be used with Eos Locate™ for ArcGIS®.
Learn about Eos Locate™ >
Learn about Eos Laser Mapping™ >
Explore the Eos Bridge™ in 3D
Bring the Eos Bridge™ to life on your screen. Click the play button to launch the Eos Bridge™ 3D model. Select any numbered button to access helpful tips about this game-changing Bluetooth® connector for location professionals.
Eos Bridge™ Technical Specifications
Ports: Bluetooth Dual Mode Compliant, USB 2.0 (Programming), RS-232 Serial
Status LEDs: Power, Bluetooth® BR/EDR, Bluetooth LE, Charging Status
Battery Status: 5-LED Indicator
Bluetooth® Transmission1: Class 1, 200m LoS range
Frequency: 2.400 – 2.485 GHz
Fully Bluetooth® Qualified: Bluetooth® 4.1 Dual Mode
Supported Connections: BR/EDR, BLE
TX Power: +12 dBm with Bluetooth® BR/EDR, +8 dBm with Bluetooth® LE
RX Sensitivity: -96 dBm
Battery Type: User replaceable 2600mAH Lithium-Ion cell
Battery Autonomy2: 48+ hrs on a single charge
Charging Time: 4 hours via USB port
Operating Temperature: -40°C to +85°C (-40°F to +185°F)
Storage Temperature: -40°C to +85°C (-40°F to +185°F)
Humidity: 95% non-condensing
Compliance: FCC, CE, RoHS and Lead-free
Enclosure Rating: Waterproof, IP-67
Immersion: 30cm, 30 minutes
Dimensions: 9.5 x 6.9 x 3.1 cm (3.7 x 2.7x 1.2 in.)
Weight: 165 g (0.36 lb)
USB Connector: Mini USB Type B Receptacle
Serial Connector: 5-pin Circular
Technical Specification Footnotes:
Transmission in free space
Lithium-Ion battery performance degrades below -20°C (-4°F)